Ace Aquatec moves into Water's Edge
19 August 2021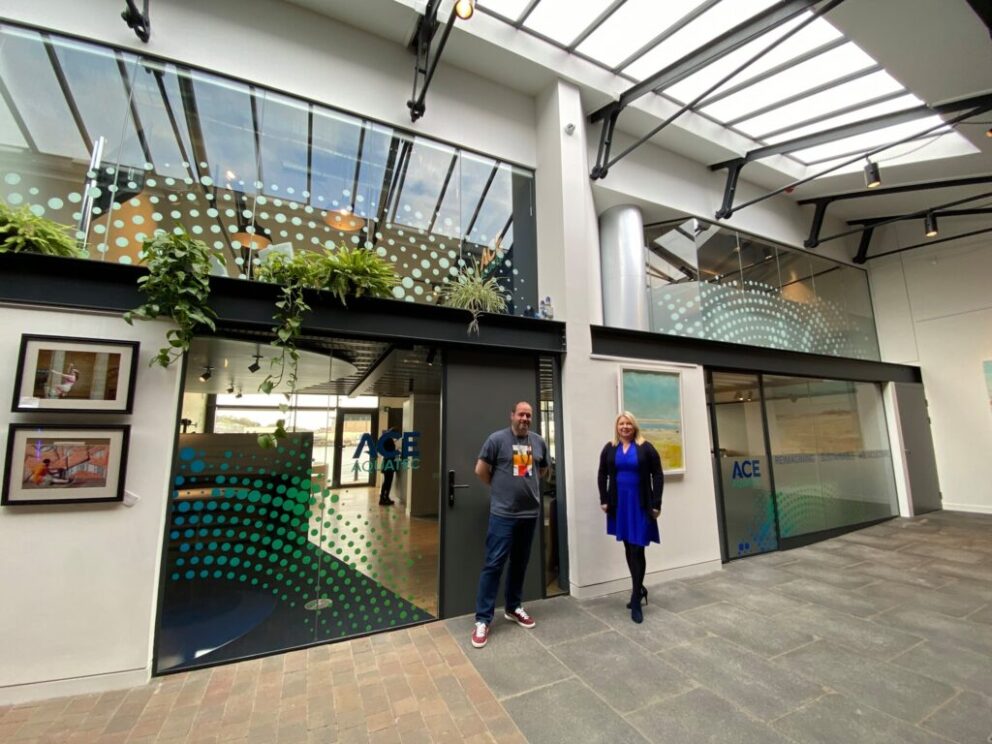 Moved in on 6th May 2021, Sharon Craig, Finance Director of Ace Aquatec, receives a warm welcome from Stewart Clark, Managing Director of Chroma Developments.
Ace Aquatec is an award-winning aquaculture technology company specialising in-water electric stunners; automated waterjet bleeding; gentle contactless pumping; MMPA safe predator deterrents, biomass cameras and Sea Lice removal systems. We help customers thrive by making their operations efficient, ethical and sustainable.
The letting follows completion of a major refurbishment programme at the landmark building. The project created 15,000 sq ft of office space over two levels with original features retained and incorporated into the build which boasts specification of the highest quality.
Water's Edge opens out from a central hub into a double height set of 11 office spaces, one of which is for co-working units. There are also seven meeting rooms and event and exhibition space.
The exhibition area is currently displaying art from a collaboration with Dundee Contemporary Arts. On the Street, there are showing 18 pictures and an extra 40 pictures showing on the digital screen from the local photo club.
With high quality finishes throughout, Ace Aquatec and other future occupiers will benefit from a single connected system that will control and monitor everything from lighting and heating to security and energy usage via a smartphone, tablet or computer.
Tenants will also have access to ultra-fast broadband, car park spaces and cycle racks.
The refurbishment project team included building contractor Lyon Building Services, architect Nicoll Russell Studios Ltd. and d3 Audio & Visual.
Businesses who are interested in finding out more about Water's Edge should contact Chroma Developments on 07741150050 or email info@chromadevelopments.com